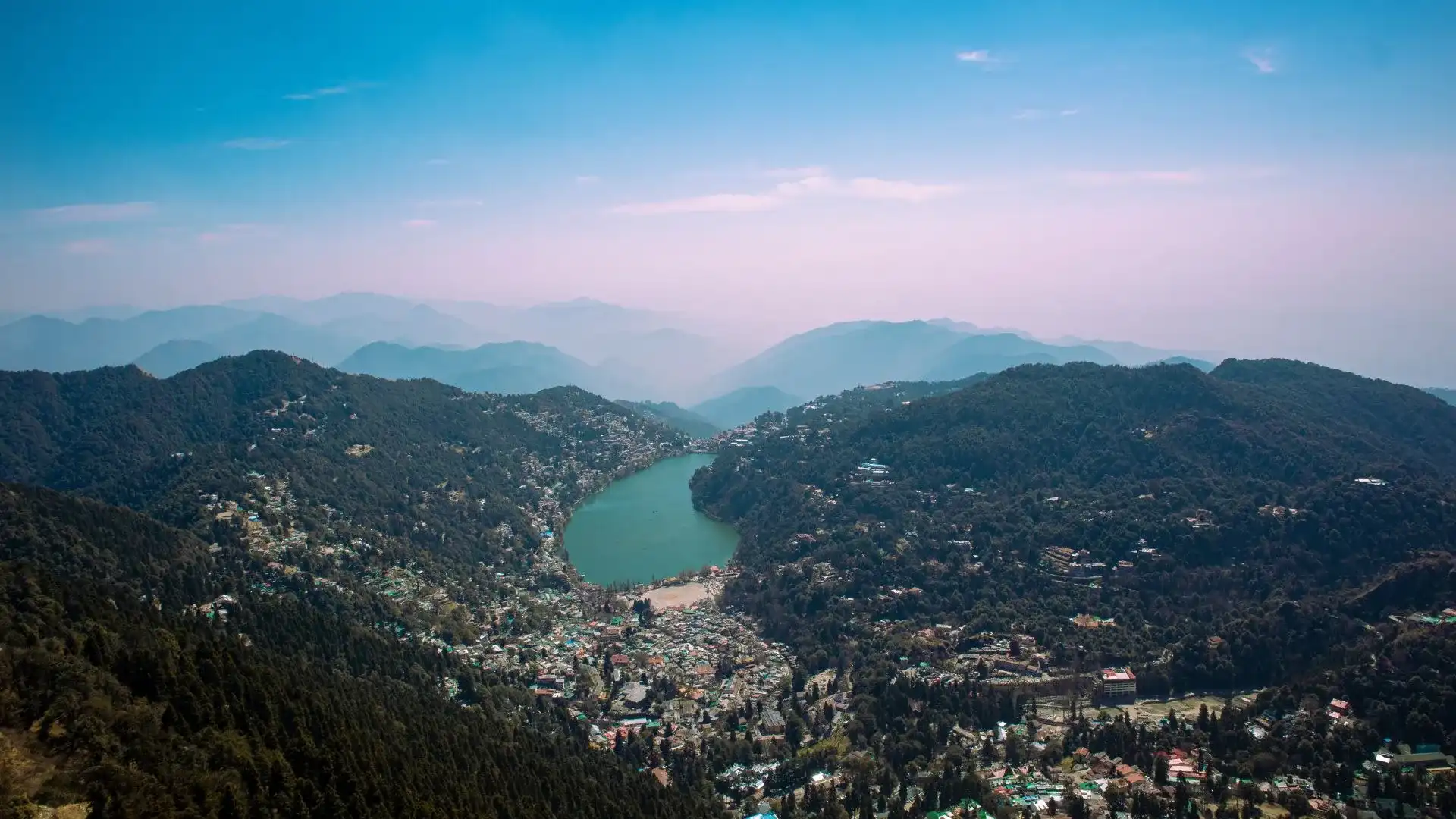 Nainital Tour Package 3 Nights/ 4 Days
Discover the serene beauty and captivating charm of Nainital with our specially curated tour package. Immerse yourself in the tranquil ambiance of this picturesque hill station, explore its scenic landscapes, and create unforgettable memories that will last a lifetime.
Tour Itinerary
Day 1: Arrival in Nainital and Local Sightseeing
Arrive in Nainital and check into your hotel.
After some relaxation, embark on a local sightseeing tour.
Visit Naina Devi Temple, a revered shrine offering a spiritual experience.
Explore the scenic spots of Naini Lake, Mall Road, and the bustling Tibetan Market.(By walk)
Back to the hotel and overnight stay.
Day 2: Excursion to Bhimtal and Naukuchiatal
After breakfast, embark on a full-day excursion to Bhimtal and Naukuchiatal.
Enjoy the serene beauty of Bhimtal Lake and soak in the tranquil ambiance.
Explore the enchanting surroundings and engage in boating activities.(at own cost)
Proceed to Naukuchiatal, known as the 'Lake of Nine Corners,' and be mesmerized by its pristine beauty.
Take a leisurely walk along the lakeside and capture breathtaking views.
Return to Nainital for an overnight stay at your hotel.
Day 3: Exploring Ranikhet
After breakfast, embark on a day trip to Ranikhet, a scenic hill town near Nainital.
Explore the picturesque landscapes, lush green meadows, and majestic Himalayan views.
Visit popular attractions like Chaubatia Gardens, Jhula Devi Temple, and the serene Upat Golf Course.
Immerse yourself in the tranquility of the surroundings and enjoy with nature.
Return to Nainital and spend the evening at your leisure.
Overnight stay at your hotel in Nainital.
Day 4: Departure
Relish a delightful breakfast at the hotel before checking out.
Bid farewell to the mesmerizing landscapes of Nainital.
Depart with cherished memories and a rejuvenated spirit.
Note: The itinerary is customizable based on your preferences and can be modified accordingly to suit your interests and time constraints.
Package Inclusions:
Hotel Accommodation
Meals (Breakfast/ Dinner)
Transportation
Sightseeing
Package Exclusions:
Extra Meals
Travel Insurance
Monument Fees
Sightseeing which is Not Mentioned.
About Nainital
Nainital, also known as the 'City of Lakes,' is a pristine gem nestled amidst the breathtaking Kumaon region of the Himalayas. With its picturesque mountain views, salubrious weather, and enchanting lakes, it has earned its place as one of India's top hill stations. This destination is more than just a vacation spot; it is an immersive experience that rejuvenates your mind, body, and soul.
As you wander through the vibrant streets of Nainital, you'll be captivated by the town's colonial-era architecture, reflecting its rich history and British influence. The shimmering lakes, including the iconic Naini Lake, create a soothing and idyllic atmosphere, inviting you to unwind and embrace the serenity that surrounds you. Lose yourself in the mesmerizing vistas, where snow-capped peaks, verdant hills, and lush forests blend harmoniously, painting a picture-perfect backdrop for your journey.
Why Nainital is Famous for Hill Station?
Nainital, renowned for its captivating Naini Lake, breathtaking vistas, and pleasant weather, has earned its place as a sought-after tourist destination. Beyond its natural wonders, this enchanting hill station boasts a unique blend of academic excellence and educational institutions that have stood the test of time.
Immerse yourself in the bustling Mall, now known as Govind Ballabh Pant Marg, where a vibrant mix of restaurants, offices, and hotels create a lively atmosphere. Indulge in the local flavors of fresh juicy strawberries, clusters of garnet-hued mulberries, and aromatic candles that fill the famed markets of Nainital. Discover hidden gems as you peruse through bookstores, shoe shops, and boutique clothing stores that cater to a diverse range of tastes.
A visit to Nainital Zoo is a must for wildlife enthusiasts, as it houses rare and magnificent species like the snow leopard, steppe eagle, and Himalayan black bear. Get up close with these fascinating creatures and witness the wonders of nature in their natural habitats. The zoo serves as an important center for conservation and education, raising awareness about the importance of preserving these majestic animals and their ecosystems.
The Governor House, also known as Raj Bhavan, stands as a symbol of architectural grandeur. Its sprawling gardens offer a tranquil escape, open for public viewing, where visitors can bask in the beauty of the surroundings. Immerse yourself in the serene ambiance and marvel at the architectural marvel that once served as the residence of the British governors.
For an educational and entertaining experience, visit the Eco Cave Garden, a unique attraction that offers an immersive learning environment for children. Explore the interconnected caves and learn about the delicate balance of the ecosystem. This interactive experience fosters a deeper understanding of nature's intricate web and the importance of environmental conservation.
Rising proudly at an elevation of 8,568 feet, the imposing Cheena (Naina) Peak offers a panoramic view of the Himalayas that will leave you breathless. Gaze upon the majestic snow-capped peaks and witness a bird's eye view of Nainital, capturing memories that will forever be etched in your mind.
Nainital's legacy of education is equally impressive. The Aryabhatta Research Institute of Observational Sciences (ARIES), located on Manora Peak, is a center for astronomical studies and optical tracking of artificial satellites. Here, scientists and researchers delve into the mysteries of the universe, pushing the boundaries of knowledge and exploration. The town's rich educational heritage is evident in its prestigious institutions that have stood since the British era. Sherwood College, St. Joseph's College, and Sainik School are renowned establishments that continue to uphold the legacy of academic excellence. Nainital also proudly hosts one of the campuses of Kumaun University, further nurturing the pursuit of knowledge and intellectual growth.
Nainital's harmonious blend of natural beauty and educational prowess creates an environment where one can find solace in both the wonders of nature and the pursuit of intellectual enlightenment. Embark on a journey that awakens your senses, expands your horizons, and leaves an indelible mark on your heart and mind.