Auli
Nestled amidst the snow-capped peaks of the Garhwal Himalayas, Auli is a picturesque destination located near the world-famous Badrinath Temple, making it an ideal part of your Chardham pilgrimage. Auli tourism is renowned for its captivating ski resorts and breathtaking natural scenery. Situated at an average altitude of 2800 meters above sea level, Auli boasts well-groomed slopes that are surrounded by coniferous and oak forests, offering panoramic mountain views. In the regional language, Auli is referred to as a 'bugyal,' which translates to meadow. However, the weather in this region can be highly unpredictable. Auli, with its stunning natural beauty and close proximity to the revered Badrinath Temple, holds a special place in the hearts of pilgrims and tourists alike. Whether you're embarking on the sacred Chardham yatra or seeking a serene escape, Auli tourism offers a unique blend of spirituality and natural grandeur.
Auli tourism has a rich history dating back to the 8th century. Legend has it that the revered Sankaracharya visited this beautiful location. Auli is strategically located on the route to the Badrinath Chardham Pilgrimage Destination in Uttarakhand, making it a must-visit during your Chardham yatra. The best time to visit Auli is typically from mid-February to mid-March when it is covered in snow, creating a mesmerizing winter wonderland. Tourists in Auli tourism have a range of accommodation options to choose from, including budget hotels and 5-star resorts, some of which offer stunning views of the Himalayan peaks.
Apart from skiing, Auli tourism offers several other attractions and activities. Gurso Bugyal, Chattrakund, Kwani Bugyal, Hot Spring Point, and Chenab Lake are some of the popular tourist spots in Auli, providing a diverse range of experiences for travelers. Excursions to Hemkund and the Valley of Flowers are also highly popular among travelers exploring Auli's surroundings, adding a spiritual and natural dimension to your Auli tourism experience.
Auli Hill Station - Ski Resort
Auli is the picturesque lap of the Garhwal Himalayas, Auli stands as a famous hill station and a coveted ski resort in India. Renowned for its snowy slopes, this charming destination offers an array of attractions that cater to the desires of every type of traveler. From Himalayan vistas to serene meadows, thrilling adventure activities, romantic panoramas, cable cars, and more, Auli has it all. Perched at an awe-inspiring altitude of 2505 meters above sea level, Auli gifts visitors with a breathtaking view of the crescent-shaped Himalayas. This panoramic vista includes iconic peaks like Nanda Devi, Mana Parvat, and Kamat. Whether you're a seasoned professional or a novice, the slopes of Auli promise heart-throbbing experiences for skiers of all levels. Winter sports enthusiasts will be pleased to know that the Garhwal Mandal Vikas Nigam (GMVN), in collaboration with the Uttarakhand Tourism Department, organizes exciting skiing events in Auli, contributing to the growth of skiing in India. Auli isn't just a winter wonderland; it's a "round the year destination" that showcases diverse landscapes throughout the seasons. During the summers and monsoons, Auli adorns itself with lush green meadows. In the autumn season, the scenery transforms into dry, rustic vistas. Finally, as winter descends, Auli's slopes are blanketed in pristine, powdery snow, inviting ski enthusiasts from across the globe.
In conclusion, Auli Hill Station – Ski Resort is more than just a destination; it's an all-encompassing experience for nature lovers and adventure seekers. With its scenic beauty, thrilling activities, and year-round appeal, Auli is truly a gem in the crown of the Indian Himalayas.
Auli Tourism: Where Adventure and Beauty Converge
Auli Tourism in the pristine beauty of Uttarakhand, Auli Tourism earned a place of honor by hosting the inaugural South Asian Winter Games in 2011. Renowned experts from France and Austria, who graced the event, hailed Auli Tourism as one of the world's finest ski resorts. If you plan to spend a week in this winter wonderland, don't miss the opportunity to enroll in the GMVN 7-day or 14-day ski courses, guided by seasoned professionals. Even day tourists can partake in this thrilling experience, making it accessible to all. The slopes of Auli are a sight to behold, adorned with majestic Deodar and Oak forests. These natural barriers gracefully diminish the velocity of the chilling winds, ensuring a comfortable skiing experience. Auli beckons adventure enthusiasts and winter sports aficionados from across the globe, offering a perfect playground for their passions. But Auli Tourism isn't confined to winter alone; it has a lot more to offer. For avid mountain biking enthusiasts, the summer months unveil enchanting mountain biking trails that are perfect for an adrenaline-packed adventure. Another must-try experience is the scintillating 4 km Gondola or cable car journey, which unveils magical vistas of the resort and its surrounding beauty.
Auli's allure extends beyond adrenaline-pumping activities. The region boasts numerous tourist destinations within and around the hill station. These include the serene Artificial Lake of Auli, the breathtaking Gurso Bugyal, Chattrakund, the scenic Kuari Pass, the tranquil Chenab Lake, the spiritual Vishnu Prayag, the historic town of Joshimath, the revered Badrinath temple, and the serene Tapovan, among others. Auli truly comes alive during the winter season and is an ideal destination to welcome the New Year. Thousands of tourists flock to Auli at year-end to celebrate the festive spirit of Christmas and ring in the New Year amidst its enchanting landscapes. Auli Tourism is a captivating blend of natural beauty, adventure, and cultural richness, making it an irresistible destination for all seasons. Whether you seek adrenaline-pumping activities or serene moments in nature, Auli has something special to offer every traveler.
History and Legends of Auli
Auli stands out as a lesser-known hill station in comparison to its more famous counterparts like Shimla, Gulmarg, and Manali. Notably, the slopes of Auli served as the training grounds for the Indian Paramilitary Forces and the Indo-Tibetan Border Police Force in the past. Today, Auli has gained recognition for its snow-covered slopes and the breathtaking panoramic views it offers of the towering peaks of the Himalayas, including Trishul, Nanda Devi, Kamet, Mana Parvat, Beethartoli, Nilkanth, Hathi Parbat, Ghori Parbat, and Dunagiri.
Legend has it that the revered Guru Adi Shankaracharya visited Auli during the 8th century AD. He established a math (monastic establishment) at Joshimath, which still stands today and is known as Sankaracharya Tapastali.
Auli's unique charm lies in its pristine natural beauty and serene ambiance, making it an ideal destination for those seeking a quieter and more tranquil hill station experience in the Himalayas.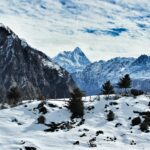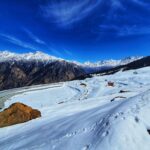 Joshimath: Joshimath is one of the four mathas (monastic establishments) established by Adi Shankaracharya in the 8th century. It holds significant religious importance in the Uttarakhand state of India.
Chattarakund: This small lake is known for its crystal clear waters and is located near Auli at an altitude of 3300 meters above sea level. It is surrounded by lush green forests, making it a serene and picturesque spot.
Bhavishya Kedar: This small temple is dedicated to Hindu Lord Shiva and his consort Goddess Parvati. It is a place of worship and pilgrimage for devotees.
Auli Ropeway: Auli Ropeway is a major attraction in Auli, offering stunning views of popular Himalayan peaks. It is one of the highest ropeways in Asia, second only to Gulmarg in terms of altitude.
Chenab Lake: Located near Joshimath, Chenab Lake is a small and pristine crystal-clear water lake. It is relatively less polluted and remains untouched, attracting nature lovers and tourists seeking tranquility.
Auli Artificial Lake: This is one of the world's highest artificial or man-made lakes. It has played a crucial role in extending the skiing season in Auli, making it a prominent feature of the landscape.
Kwani Bugyal: Kwani Bugyal is a popular trekking destination near Auli and Joshimath. The best time to visit is during the summer season when the meadows are at their vibrant best.
Gorson Bugyal: Situated at an altitude of 3056 meters above sea level, Gorson Bugyal is just a 3 km trek away from Auli. It is covered in snow during the winter season, offering a winter wonderland for adventurers.
Sleeping Beauty Mountain: This mountain resembles the shape of a reclining lady with open hair on its peak, giving it the name "Sleeping Beauty Mountain."
Narsingh Temple: Narsingh Temple is one of the most popular temples in Joshimath, Uttarakhand. It is famous as a part of the Sapt Badri pilgrimage and is also known as Narsingh Badri Temple.
Tapovan: Located 14 km from Joshimath, Tapovan is a popular tourist spot known for its natural spring, where hot water emerges from the earth. It is a place of natural beauty and serenity.
Auli During Char Dham Yatra
In addition to the enchanting snowy landscapes, the winding roads that traverse the slopes of Auli Tourism also provide breathtaking views of beautiful apple orchards and majestic deodar trees. These natural elements add to the allure of the Char Dham Yatra tour package, making it a truly precious and memorable experience.
To reach Auli from Joshimath, you have a couple of transportation options. You can either hire a taxi for a scenic drive through the mountains or opt for the Auli Ropeway, which is the highest and longest cable car in the area, stretching for up to 4 kilometers. This cable car, often referred to as the Gondola, offers a spectacular journey with panoramic vistas of the Himalayas and is an attraction in itself for visitors to Auli Tourism.
Car Rental For Char Dham Yatra
We provide car rental services for Char Dham Yatra and individual Char Dham Temples (Badrinath, Kedarnath, Gangotri, and Yamunotri). Our platform offers the latest information on taxi and cab rental services, including rates, from your city. We work with some of the best car rental operators in Uttarakhand, ensuring quality and efficient car hire services for pilgrimage tours.
Char Dham Distance Chart From Auli
Many pilgrims choose to include Auli, renowned as the best skiing destination in India, as a part of their Char Dham Yatra. Auli's pristine beauty and stunning vistas of the Himalayas make it a captivating addition to the pilgrimage journey, with lush green meadows adding to its allure.
To reach Auli from Joshimath, travelers have the option to either hire a taxi for a scenic drive or use the Auli Ropeway, one of the highest and longest cable cars in the region, offering a remarkable journey through the mountains.
| | | | |
| --- | --- | --- | --- |
|   | Distance | Time | Route |
| Badrinath | 59 kms | 2 hrs | Auli -> Joshimath -> Govindghat -> Pandukeshwar -> Hanuman Chatti -> Badrinath |
| Kedarnath | 212 Kms | 9 hrs | Auli -> Joshimath -> Pipalkoti -> Chamoli -> Nandaprayag -> Karnaprayag -> Rudraprayag -> Augustmuni-> Guptkashi-> Gaurikund-> Kedarnath |
| Gangotri | 392 kms | 13 hrs | Auli -> Joshimath -> Pipalkoti-> Chamoli-> Nandaprayag-> Karnaprayag-> Rudraprayag-> Srinagar-> Naughar -> Uttarkashi-> Gangotri |
| Yamunotri | 382 kms | 13 hrs | Auli -> Joshimath -> Pipalkoti -> Chamoli -> Nandaprayag -> Karnaprayag -> Rudraprayag -> Srinagar-> Chinyalisaur -> Dharasu Band-> Barkot -> Jankichatti-> Yamunotri |
By Air: The nearest airport to Auli is the Jolly Grant Airport in Dehradun, which is approximately 17 km from Rishikesh and 273 km from Joshimath.
By Train: The closest railway station is the Haridwar Railway Junction, located about 299 km away from Auli.
By Bus: Auli is easily accessible by road. It is only a 16 km drive from Joshimath. State transport and union buses operate regularly between Joshimath and Rishikesh (253 km). You can also find local Transport Union Buses and State Transport buses connecting Joshimath to major cities like Haridwar (277 km), Dehradun (298 km), and Delhi (500 km).